Centenary News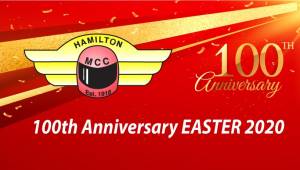 CENTENARY UPDATE JULY
Centenary Dinner.
The new date of Labour Weekend for the Centenary events is confirmed.
Events start on October 24th, with the Opening of the Centenary Bike Show at the Classics Museum.
We also have a Road Trial in the pipeline for the Saturday. The Dave Connolly Memorial Trophy will be on the line for this one (usually for the Anzac Trial, which was gobbled up by Covid this year).
The Centenary dinner will go ahead at the Hangar, Te Kowhai airfield on Saturday evening.
Sunday morning 25th, there will not be the Swap Meet originally planned, you'll have to wait for April 2021 for that.
But the commemorative Road Ride and photo recreations will happen on Sunday. Meet in Hood St from 9.00am (you won't be hungover, surely??). Bring out you vintage machinery, or your modern stuff, but come on a put on a good show. From there, there will be a vintage-friendly ride to the top of the Kaimai's, where our club was first mooted, the return to the clubrooms for BBQ, Beers and reminiscing.
Our show of artworks and bikes at the Waikato Art Museum will still happen, but has been rescheduled to Decemeber 2020 through Feb 2021.

The Book.
Is now available, can be picked up at the Clubrooms on clubnight.
The pre-orders have been couriered where I have addresses, or for Hamilton residents, dropped off personally (apologies to those that are still on my list, haven't finished yet...). If you haven't received it yet, come on down to the Club on clubnight and collect it.
There are plenty of copies still available, bring $50 cash (no eftpos).

T Shirts
We will have some supplies at Club Night, you can collect your pre-ordered ones, and maybe buy one on the night if we have your size and colour in stock.