Centenary News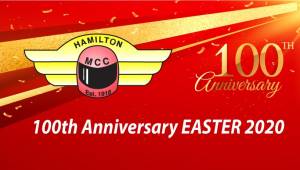 Due to the Covid 19 Lock down, all our Centenary events are postponed until hopefully later this year, we will have to wait and see how events unfold in the coming months. Main Event: Dinner Saturday ?? 2020.
Supporting Events planned;
Sat ??th 9am; Road Ride Kaimai's original ride re-creation, returning to Classics Museum Bike Show opening day.
Sat ??th through to ??th: Bike Show at Classics Museum
Sun 1th am; Swap Meet at Classics Museum car park??
Sun ??th pm; Trials get together with bikes Huntly.

Also.
Sat same day as dinner ??th ; Get together of bikes at Hood St.
Parade up Victoria St, then to top of Kaimai's, back to Clubrooms. Optional rides around various Hamilton Road Race circuits (at legal speeds!) or a longer ride for those that wish. Clubrooms open from midday pm for "Pre-Centenary Celebrations".